This is the UK based model number MB4120 as in the US there are different models using the beard boss sub branding. Excellent name that!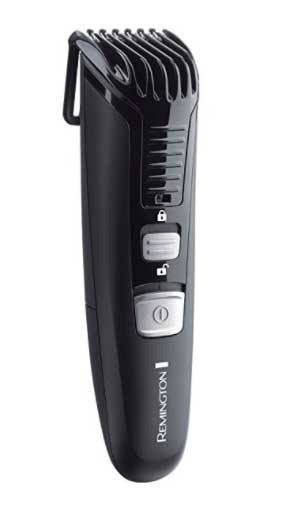 The Remington Beard Boss is a great shaver. Style reviews tested a whole bunch and you can spend around $70 and still have the issue that is an under powered shaver. Well maybe they decided to just throw some disposable batteries in there and be done. Many need charging cables and we are getting annoyed at never finding one when you need it. So some product designers offer charging trays but they are not exactly portable so indeed the disposable battery could well be this shavers main selling point. But it isn't the only one!
The trimmer features:
This has a naked (no comb spacer) shaver option to take all hair off- very handy for doing the neck line or no 'haireas'!
An adjustable fixed comb. It is a negative to have separate pieces, the adjustable comb has a lock and when unlocked has a nice ergonomic click between settings allowing for the perfect trim length no matter who you are.
The power of the trimmer is very good. I have pretty thick hair and it takes it clean off.
Serrated cutting teeth, maybe this is the reason the shaver performs so well.
You can check it out on amazon here